Workshop Verbal Aikido
Documents attached to this page:
This year, in partnership with the FLT, Marie-Solange Vottero, founder of Hello-Change 🌈 proposes a new workshop "Verbal Aikido" specifically for teenagers.
Is your teenager withdrawing or throwing tantrums ? Is dialogue complicated? Does he have trouble socializing? Is he witnessing or being bullied ? Or feeling pressure to perform at school ?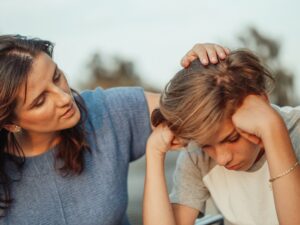 Kindle Media photo – Pexels
🥸 As parents, we naturally worry about our children's well-being and emotional health. Adolescence is a great challenge for parenthood.
🗣️ How can we respond to the emotional chaos that teenagers go through? How can we help them develop introspective skills? How can we teach them to regulate their stress and emotions ?
🗣️ How to communicate calmly and defuse conflict ?
Special offer for families member of the FLT this year:
Weekly online workshop for middle school students – Every Saturday from 10:45 to 12 pm
The first class is free of charge
One session 3,000 JPY for FLT members (instead of 3,500 JPY)
3 class package 8,000 JPY instead of 9,800 JPY
Click HERE to register for the upcoming webinar
Click HERE to book a place for your child
Workshop for Grades 4/5 (CM1/CM2) currently under review.
I'm Marie-Solange Vottero, founder of Hello-Change 🌈
Concerned about the well-being of students, I'm trained in the Shared Concern approach and have been working in schools for the past 5 years on harassment issues. At the same time, I run workshops to teach young people how to defuse conflict and assert themselves in their relationships. Sign up for my next webinar to discover verbal aikido.
#adolescents #parents #harassmentschool #communicationbienveillante