FLT Parent Association Raffle
Documents attached to this page:
The FLT-Fapee is pleased to announce that we are renewing our tradition of organizing a raffle for the year-end school party. 
Since the last edition was held back in 2019, we had to rebuild a small team for the project in record time: the FLT office warmly thanks Amélie, Carine P and  Vassaly P for all their energy put forward for this cause!
For the 2023 edition, the tickets will be sold exclusively on site during the school party on Saturday May 27 from 9am to 4:30pm at ¥100 per ticket. 
To date, we have more than 200 prizes worth a few hundred yen to nearly ¥70,000 donated by more than 30 generous donors.
Among the prizes, you can win a scarf, 3 sets of Yves Saint Laurent and Lancôme (L'Oréal Luxe) products, 10 pairs of Nikon-Essilor sunglasses, a set of books and comics carefully selected by Maison Petit Renard bookstore, a framed Mapponica map of France, a framed riso print from @fromjujuwithlove, an object selected by Takara, massages and facials (Elana Jade, Uno Djenne), fine delicacies (Les terroirs, Café Breiz, Aux Merveilleux de Fred), Pilates and yoga classes, subscriptions to Bayard-Milan magazines, a meal for two at Byblos or CoCoRec, vouchers from Nissin and National Azabu, etc.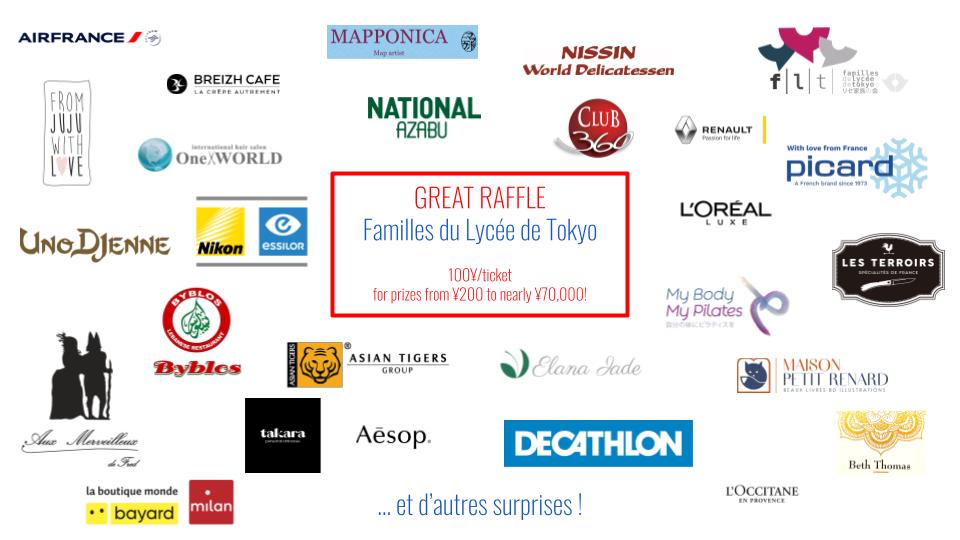 A special note for Decathlon, Picard, Renault and Air France who have chosen to offer smaller prizes in large quantities!
Try your luck! The draw will take place on the podium at 4:30pm!
The profits of this raffle will be entirely donated to the solidarity fund of the school which finances school trips and outings in order for all children to have the opportunity to participate! 
For information, please find the school party program for May 27: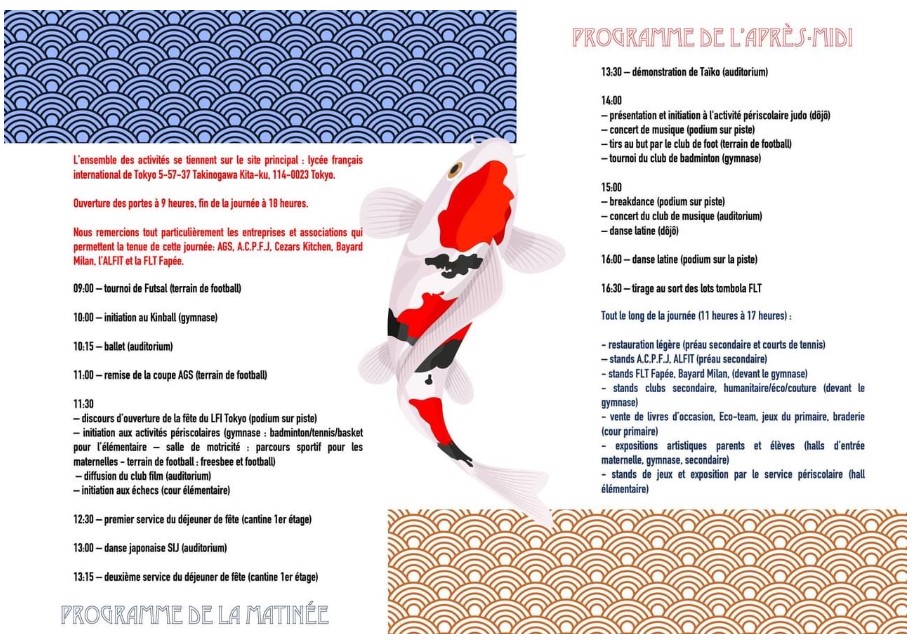 We are expecting many families on-site!
EDIT: The raffle results are available in the PDF attached to this article!
Just over 30 prizes were drawn on stage at the school fête, and the winners were presented with their prizes by any donors who wished to do so. The rest of the draw was carried out in the same way by the three main organizers and their children. A total of 151 prizes were awarded according to the attached list.
Collection of prizes at our offices in the main building:
-> Tuesday May 30, 2023 from 8.30am to 9.30am and from 3pm to 5pm
-> Wednesday May 31 from 8.30am to 1pm
Please present your ticket when collecting your lot.
Lots not collected will be used in the next tombola or donated to our volunteers.
THANK YOU ALL FOR YOUR PARTICIPATION!