site map
Links to continuous feedback forms
Parents' feedback on the canteen service at LFI Tokyo 
Canteen service feedback form
---
Inclusive school at LFI Tokyo
FLT created a group focused on inclusive schooling presented HERE.
Among other actions, we created a list of professionals who can be consulted by children with special needs (in French, including mentions about languages spoken by each professional).
https://bit.ly/listeProFLT
We also created a group for parents of these children that you can join sending an email to our group.
---
Should you have any topic you would like to raise during the next Conseil d'école (LFI Tokyo Primary School Council), Conseil du second degré (Junior and Senior High School Council), or School Council (CE), please fill this form.
LFI Tokyo Primary School Council (Ce):
The Primary School Council prepares recommendations for the LFIT School Council with regards to educational matters and school life at the Primary School.
Junior and Senior High School Council (CSD):
The Junior and Senior School Council prepares recommendations for the LFIT School Council with regards to educational matters and school life at High School.
LFIT School Council (CE):
This body oversees the Primary and Secondary School. It reviews the topics discussed during the Primary School and Junior/Senior High School Councils. It can make decisions regarding educational and organizational matters within the framework defined by AEFE. It cannot replace AEFE or the Board Meeting for their specific scopes of decision.
Ce – CSD – CE – CA feedback form
FLT – Parents association – board members 2022-2023
President : Jessica Cosmao
Vice-president for Primary School: Célia Hughes
Vice-president for Junior-Hi and High School: André Salerno
Secretary: Séverin Ferrand
Treasurer : Laurent Wolff
As well as : Colombe Bally, Maxence Barbier, Vincent Brancourt, Thomas Brun, Virginie Cammas, René Carraz, Jean-Bernard Dumerc, Hugo Catherine, Daphné François, Stéphanie Moreels, François Poncin, Madoka Poncin, Aurélie Roques, Simon Serverin, Pierre-François Vilquin.

Special advisors : Bruno Peyron (Oles administrator), and François Roussel.
It is possible to join the FLT board members anytime during the school year, as specified in the association's articles, usually following an adaptation period working with the existing team. New joiners' information will be timely published on the FLT website.
You can contribute to the association and its work without joining its board: volunteers may participate to the extent of their availability and engagement preference anytime during the school year.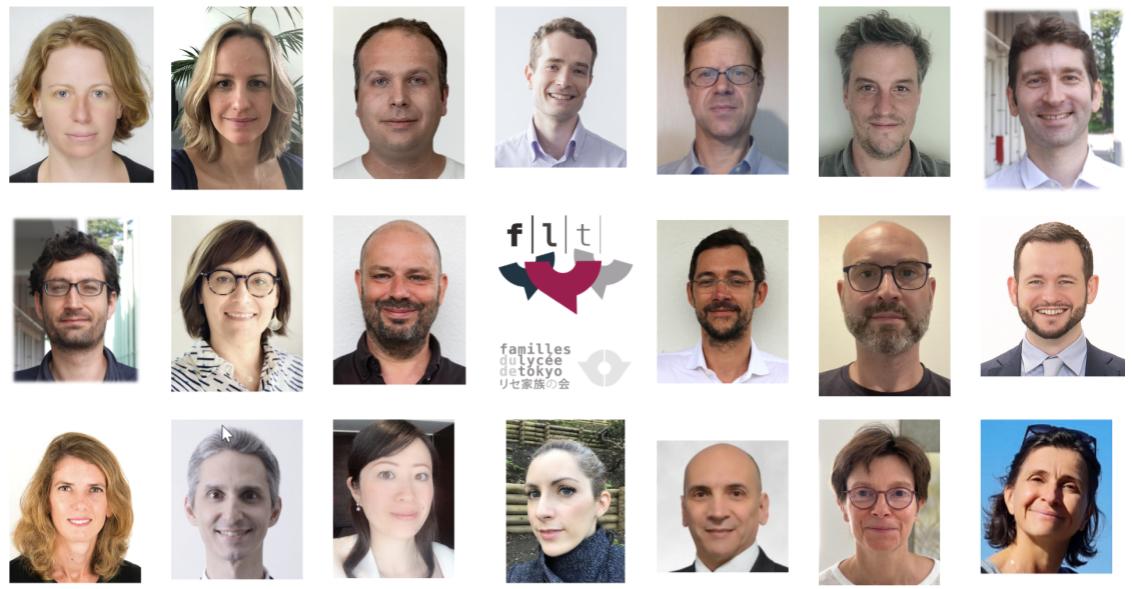 From left to right:
Jessica COSMAO, Célia HUGHES, André SALERNO, Séverin FERRAND, Laurent WOLFF, Hugo CATHERINE, Pierre-François VILQUIN, 
Simon SERVERIN, Stéphanie MOREELS, Vincent BRANCOURT, René CARRAZ, Maxence BARBIER, Thomas BRUN,
Colombe BALLY, François PONCIN, Madoka PONCIN, Virginie CAMMAS, Jean-Bernard DUMERC, Daphné FRANÇOIS, Aurélie ROQUES 
WhatsApp Group (New!)
Stay in touch with the FLT community and its volunteer team through the new WhatsApp group. Click here to join now!
(offering discounts to FLT members for activities)
Annuaire
Several groups have been formed within the board of the FLT association. They can be reached directly by e-mail by adding @familles-lycee-tokyo.com to the following aliases:
ecole-inclusive for the inclusive school group presented HERE
living together works on harassment prevention, conflicts management (Page under construction, French version, in the meantime, contact us if you wish to know more)
ecoteam  for the FLT ecoteam presented HERE
restauration, see HERE
partenariat for the FLT Partnership presented HERE
lycee-cafe  for the organisation of the Q&A cafés that you can see in our calendar
gt-langues for the team working specifically on languages, divided in 4 subgroups

gt-fr about French
gt-eng about English
gt-jap about Japanese
gt-rls about the restructuration to come at secondary school (mainly for Junior high school).
Feel free to contact us or suggest other groups!
Practical Information
New: the association now has several partners who offer preferential rates to members, check the list HERE.
The LFI Tokyo VOCABULARY in English, French and Japanese.
Tons of information about the  Takinogawa area (French only).
And of course plenty information about Tokyo, Events, what to do etc.  VIVRE A TOKYO.COM (French).
Looking to place a classified ad, sell or buy stuff, looking for good tips, maybe find a babysitter or a tutor? :  Tokyo Petites Annonces is now on Facebook
Other practical groups on WhatsApp
Please contact the association as new members can only be added by request of current members, or request to Admin of the groups.
"Tokyo au quotidien" to help you in your day to day life in Tokyo (find a doctor,  a babysitter, a tutor, a place where you can buy something…)
"A vendre/TROC" – To sell, exchange or give for free
"Tokyo covid" for Covid related questions (vaccination, travel conditions, PCR tests…), administered by the Conseillers des Français de l'étranger 
FLT joined the Fapée global parents association network
La FAPEE :
Fédération des Associations de Parents d'élèves des Etablissements d'enseignement français de l'Etranger
Abroad French schools Parents Association Federation
FLT partners
The membership card of the FLT Association, called "FLT card", used to give a 10% discount at the French bookstore Omeisha located in Iidabashi but unfortunately it closed its doors in February 2022. So we have been looking for new partners willing to offer a preferential rate to our members in exchange of a visibility on our website.
The FLT card (membership in the FLT-Fapée Association) entitles you to preferential rates upon presentation to the following FLT partners:
Partner
Topic
Website
Offer
King's Road English School
English regular and intensive courses; mini camp probably starting in 2023
https://www.kings-road.org/
Discount for FLT members – 10% discount on regular and intensive/vacation courses
Atelier Café Gare de Lyon
acting classes (children, teens and adults) and improvisation + private classes for more fluency in speaking / gaining confidence – in French
https://www.instagram.com/ateliercafegaredelyon/
Discount for FLT members – 10th class offered, discount on courses
Prospèkt Téatr
Acting classes – 2 workshops in high school and college – personalized/private classes for children, teens and adults – in French
https://sites.google.com/view/prospekt-teatr/
Special rate for FLT members – 10% discount
FC Nomade
Soccer club: year-round courses, internships with accommodation and mini internships (English, French, Japanese)
https://www.fcnomade.jp/
Special rate for FLT members – 10% discount
Tokyo guitare
Guitar classes
https://vivreatokyo.com/prendre-cours-de-guitare-a-tokyo.html
Special rate for FLT members on introductory courses
Acting coach Japan
Film Acting Workshops for Children and Teens – in French and English
https://www.actingcoachjapan.com/home
Special rate for FLT members – 10% discount
Atelier Faber et Mazlish Tokyo
Faber and Mazlish parenting support and exchange workshops. In French.
https://parentsatelier.wixsite.com/faber-et-mazlish
Workbook offered to FLT members (value 2000 JPY, i.e. 10% of the total price of the workshop).
Hello Change
Verbal Aikido workshop (for middle school students)

practice the art of defusing aggression and conflict
learn how to regulate stress and emotions
improve communication and assert yourself in relationships

Workshop for Grades 4/5 (CM1/CM2) currently under review.

Under construction
Click HERE to register for the upcoming webinar
Click HERE to book a place for your child

Weekly online workshop – Every saturday from 10:45 to 12 pm

The first class is free of charge
One session 3,000 JPY for FLT members (instead of 3,500)
3 class package 8,000 JPY instead of 9,800
To register for activities offered by our partners, it is essential to already be a member of FLT and to have paid your subscription fee.
When registering for these activities, the presentation of your FLT membership card is required.
Please note that special rates do not apply retroactively. 
To propose other partners, please contact us at partenariat@familles-lycee-tokyo.com.
This page will be updated if we add new partners and we will keep members informed of the news.
Quick news: RSS feeds (LFI Tokyo & French Embassy)